In all honestly, I have not found balancing studying and working full-time very difficult to manage. To give you some background, I work in audit at a Big 4 firm. I sat the first twelve ACA exams within one year of starting my graduate scheme. This involved sitting three Professional Level exams at a time in March 2019 and September 2019. With a lot of hard work, I managed to pass all 15 ACA exams first time. You may be wondering how I worked full-time, sat exams, managed to complete the other aspects of the ACA qualification and maintained a work-life balance all whilst finding this somewhat manageable. I can pinpoint this down to a couple of reasons…
Check out my YouTube video if you would prefer watching to reading!
Studying and Working – College Break
Firstly, being enrolled into ACA college courses meant that I would be granted the minimum required amount of study days through my employer. Depending on the exam and the number of exams I was sitting at once, this could result in a week or two off from work to study in college or remotely via virtual college (during COVID-19). It could also involve being granted some personalised learning days at home. This time would involve learning the content, practicing questions and getting set up for the exams. At times, this would be a nice break from work and a fun time to catch up with the other graduates in my cohort.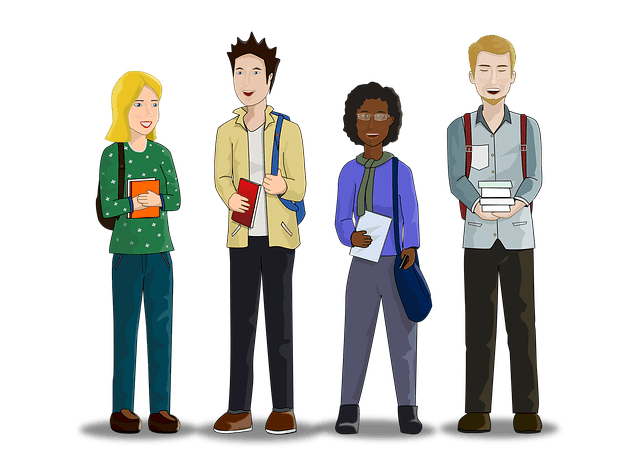 Annual Leave
The other key reason I found studying and working manageable is that I would plan ahead and book time off. Yes, I would book annual leave (part of my 25 days) to ensure I had enough time to study. The timetable of my annual leave for Professional Level exams can be seen here.
Taking annual leave is not something you have to do to pass and many have done it without. For me, I personally found it much more manageable instead of always having to study intensively in the evenings after a long day of work. This way I could still balance going to the gym five days a week and other commitments with working and studying without feeling tight for time to get through everything I wanted to. I do want to say that all this annual leave did not mean I would be completely confident for every exam but it meant I would have given each exam my all without totally burning out.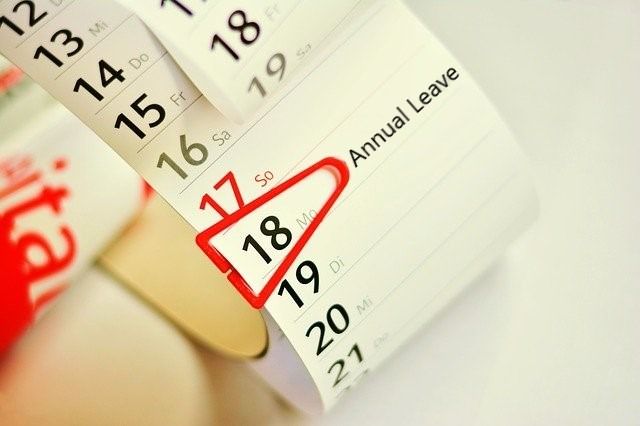 Given your job and busy seasons, it may not be possible to book time off but your employer should at least understand and allow a few days of annual leave for revision. For both Professional sittings and Advanced, I booked off two weeks of annual leave. Two weeks is quite a long time and is probably more than the amount of time needed especially with college examination preparation days on top. However, this was my own personal preference. I actually even took part in a reduced working week scheme due to COVID-19 so I had plenty of time off before the Advanced exams.
Recommended Amount of Annual Leave
Remember, I was sitting three Professional exams at a time and so two weeks off could be used up very quickly. For the ACA Case Study I think I only took a couple of days off. Again, this is therefore dependent on the exam and the number of exams you are taking in one sitting such as March/June/etc. For example, for a lighter exam such as BST, I would not recommend two weeks off for the one exam but perhaps a few days may be worthwhile if you find yourself struggling with this exam. However, weekends could be enough but it does depend on your circumstances.
I did sometimes think that I was being very extra taking time off to study but I would rather this than to have any regrets. It also just made it easier for me to have more balance in my life. This of course would have a positive impact on my mental health. Another worry was that I would look stupid if I took so much annual leave and still failed. Again, I would rather this feeling than have any regrets. These exams require hard work so I made sure to give myself the time required to put in this work.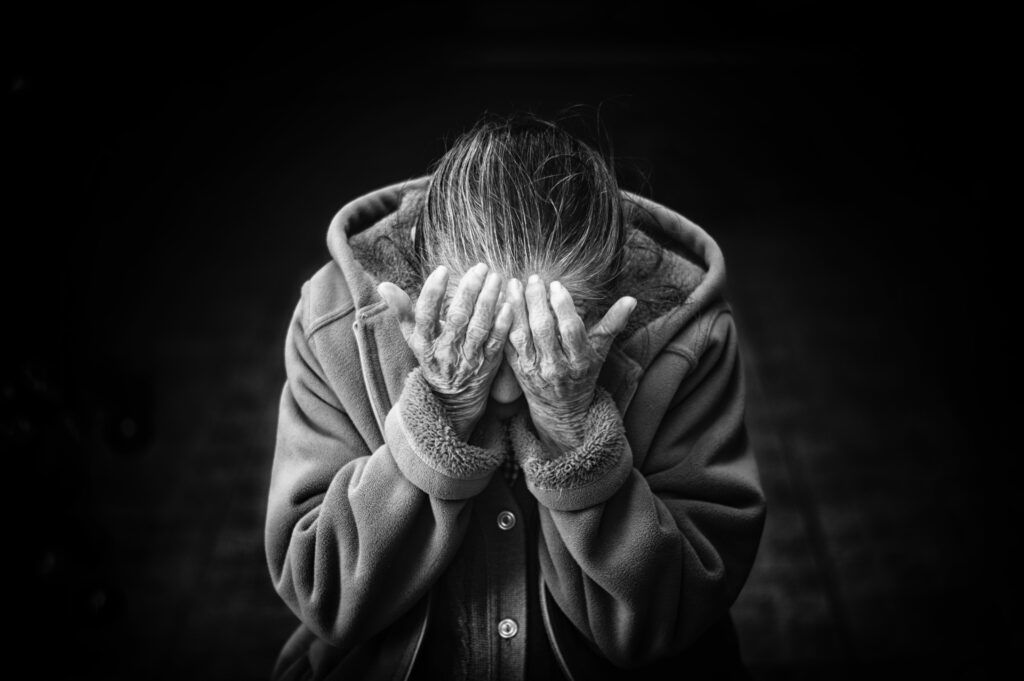 Did I Take Annual Leave for Every Exam?
Although I mentioned taking time off to study, I would for some exams still practice questions in the evening, even when working. Note that for the Certificate Level exams, I did not take time off and this was a lot of balancing working and studying. However, at the very start I definitely had the drive and would pull out the ICAEW Question Bank anywhere, even on the train, and get through these questions quite quickly. During this time, my audit work had not massively kicked in and there was a lot of training, college and personalised study days. Fortunately, it was manageable for me at the time.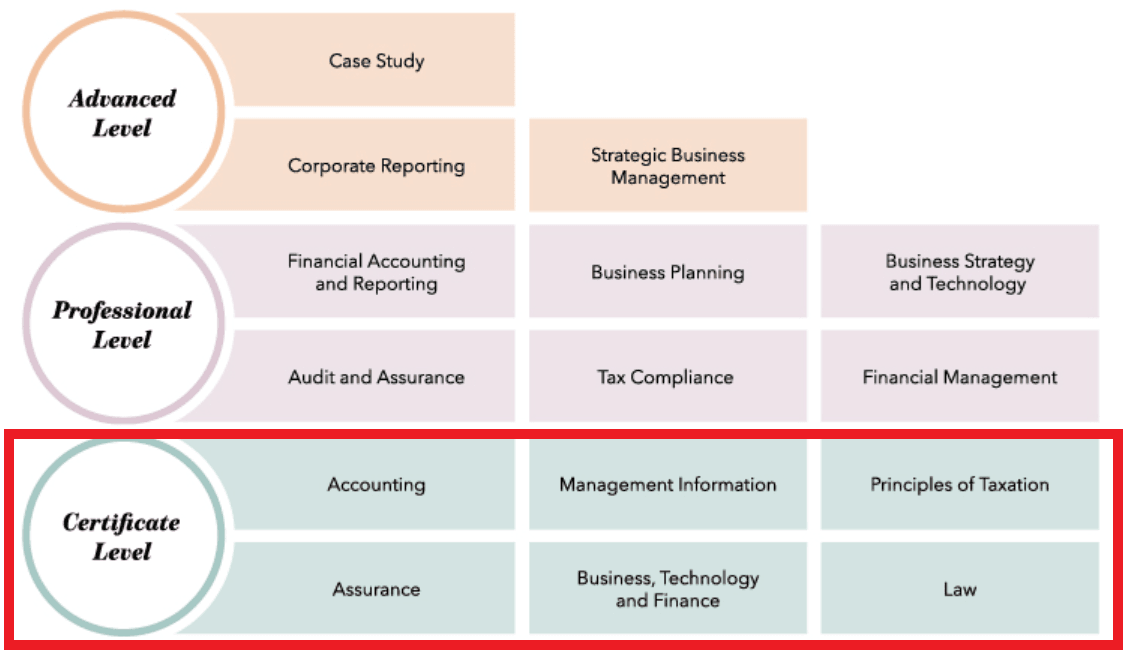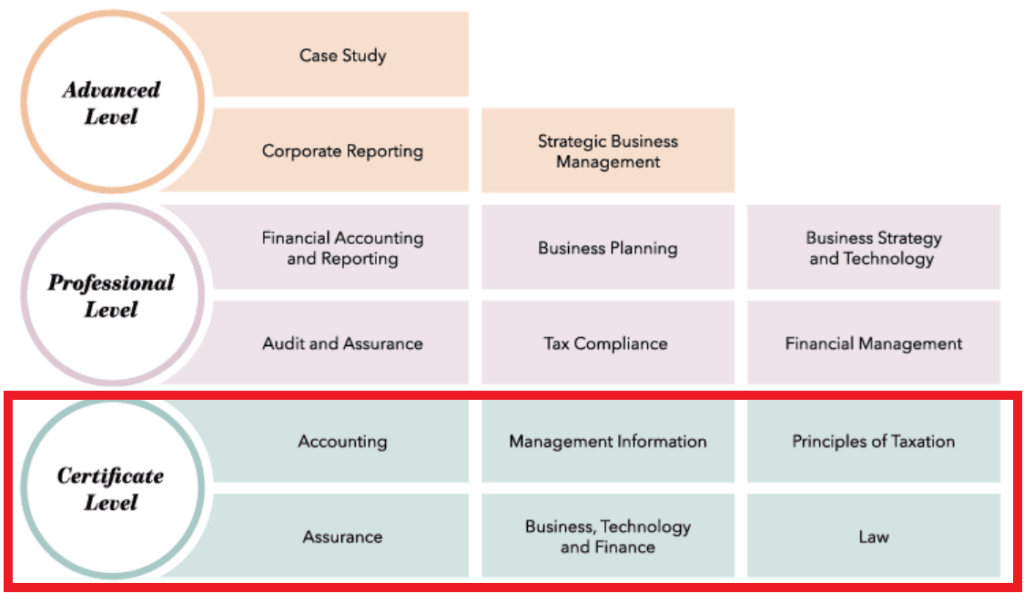 For Professional and Advanced Level it took much longer to answer and debrief one question so I could only perhaps do one or two questions in an evening when working. I will stress again that it therefore depends on the exam you are sitting and planning your time in advance helps massively. You really do need to plan ahead and work out how much time is needed for each exam and fit this around your work/life schedule. I am a strong believer of fail to plan, plan to fail.
Planning Ahead to Balance Studying and Working
What I found that really works is basing the amount of time needed to study on the ICAEW Question Bank. For the Certificate and Professional Level, I found this works quite well. Perhaps less so for Advanced where you do really need to understand the content but question practice is still needed.
Like I said in 5 Best Ways to Minimise Exam Stress, I would recommend planning out all of the Question Bank questions out as my exam strategy has always been to get through the Question Bank at least once. To help with this planning, I would highly recommend purchasing a weekly planner such as the following (affiliate link). Mine is pictured below which literally carried me through my studies! I would stick to this as I would know which questions to complete on which day and tweak accordingly as I went along. This also helps when needing to be productive 24/7.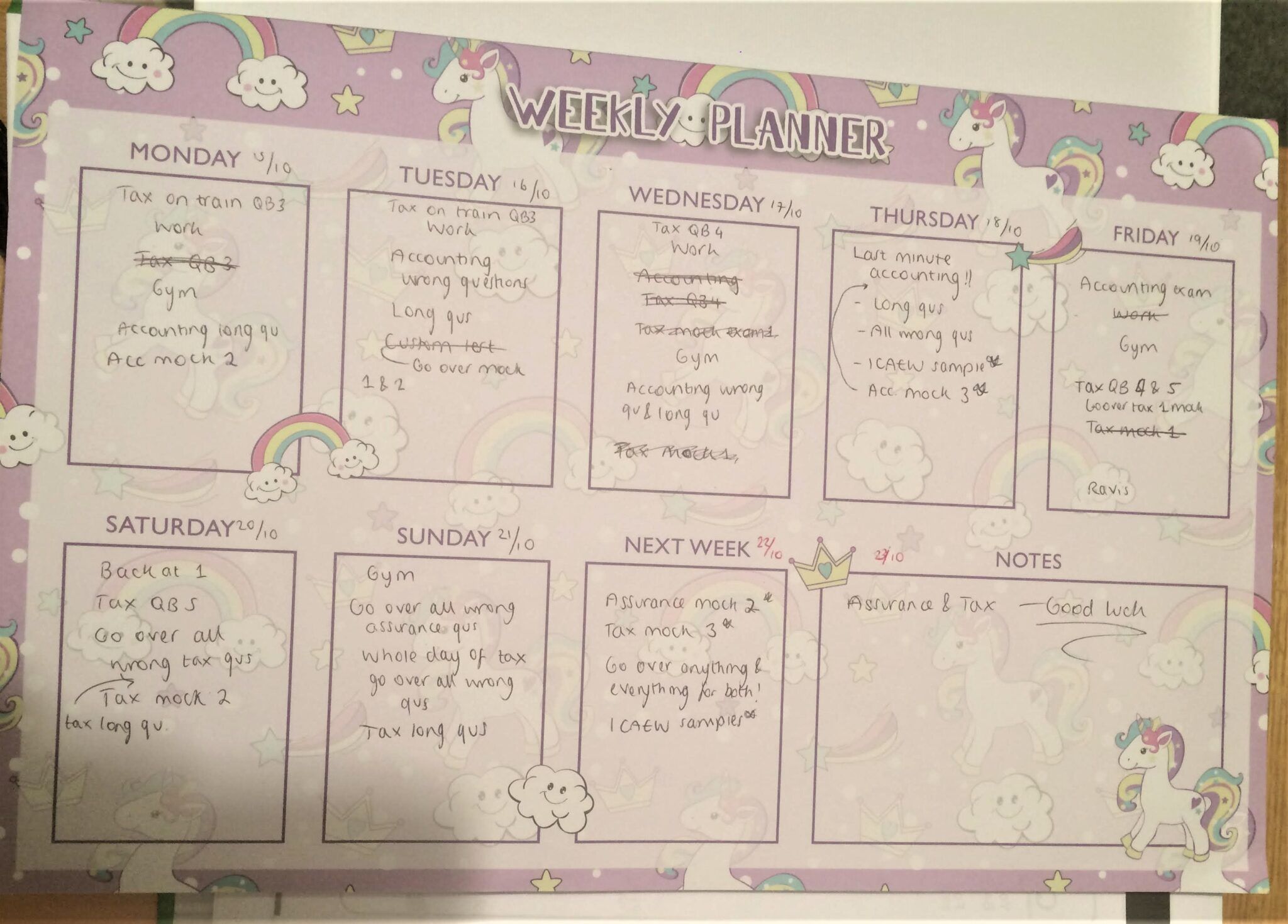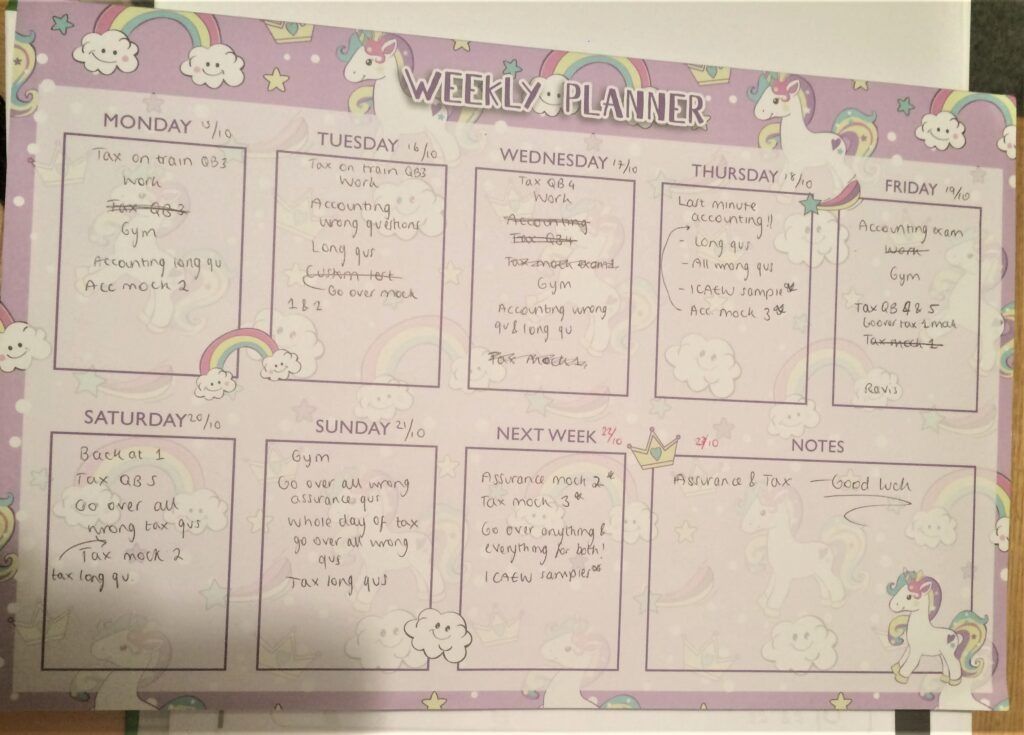 Most Overwhelming Moment of the ACA
Please do not get me wrong and think I found studying and working to be a walk in the park. There have been times where it could be quite overwhelming. For me, I felt this the most when my Advanced Level exams were postponed due to Covid-19 so there was less time to unwind before starting Case Study preparation. In fact, this was straight after. There was also the issue of feeling as though I failed CR and having to complete my project report, all during a busy season. There was also the training log to complete and KSB tracker in order to achieve the Level 7 Apprenticeship. It was a lot.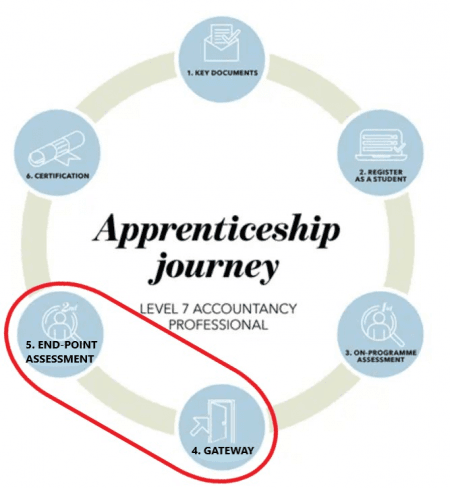 Studying and Working Summary
Studying and working is not easy but any means but I do feel there are steps that can be taken to make this much more manageable. I do not regret taking annual leave at all ahead of my exams because this time really allowed me to focus on the exams and contributed to my first time passes. It also made me feel as though I did not have to give up my whole life for the ACA (although this would have been cheaper) as I was still able to plan ahead and have balance. If you too think taking annual leave may be a good idea, just ensure to book it off early enough.
If you enjoyed this blog or found it somewhat helpful, feel free to join my journey as there will be many more blogs to come.