Next week will be exactly three years since I started my ACA journey with a Big Four employer. Within the first three months of starting my training contract, I completed all six ACA Certificate Level exams. Exams felt very new to me again as after graduating, I did a year of teaching before starting my graduate scheme in external audit. Starting studying again can be very overwhelming and the whole process can be quite daunting. If you are in the position I was in, I am here to help you. Keep reading as I will be providing tips and tricks to help you hopefully breeze through these first six exams (with hard work of course).
Check out my YouTube video if you would prefer watching to reading!
Certificate Level Exam Outline
I will not go into the details of every single exam of the six ACA Certificate Level exams in this blog. If this is something you are looking for as well as details about exam attempts, please click here. What I will say though is that each exam is 1.5 hours in duration and with some, this time goes very quickly. These exams are either completely multiple choice or at least the majority is with scenario based question(s) to go with it. This does not mean the exams are easy and you will definitely need to put in some hard work to pass these exams where the pass mark is 55%.
If you are interested in the ACA Certificate Level pass rates, how hard I found these exams and my difficulty ranking compared to all 15 ACA exams, click here.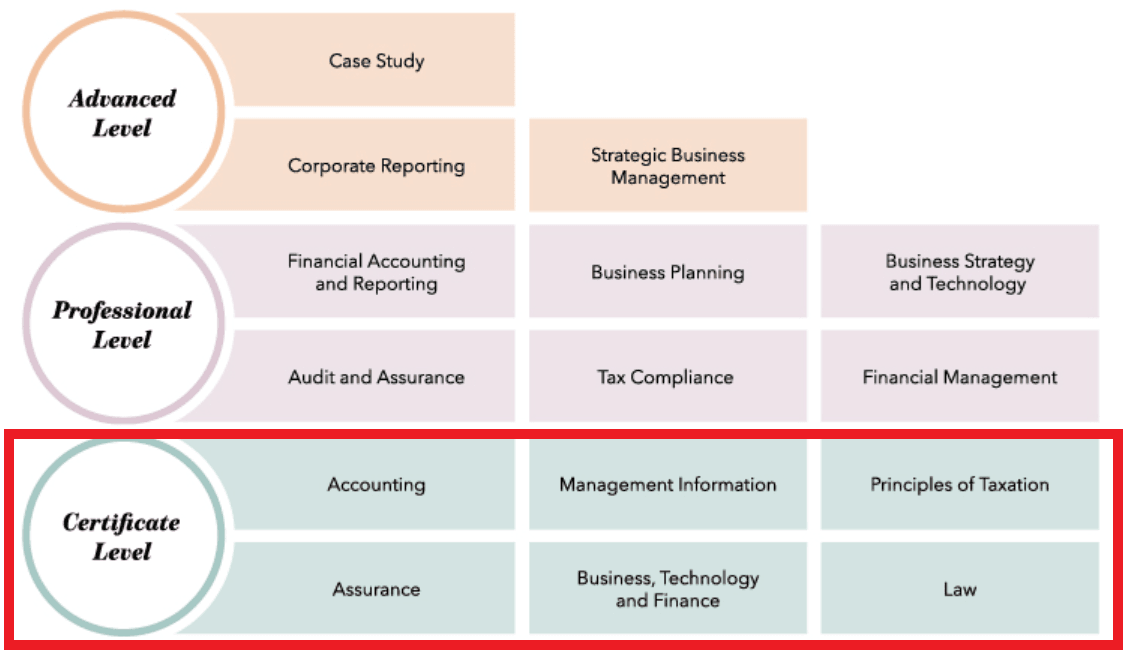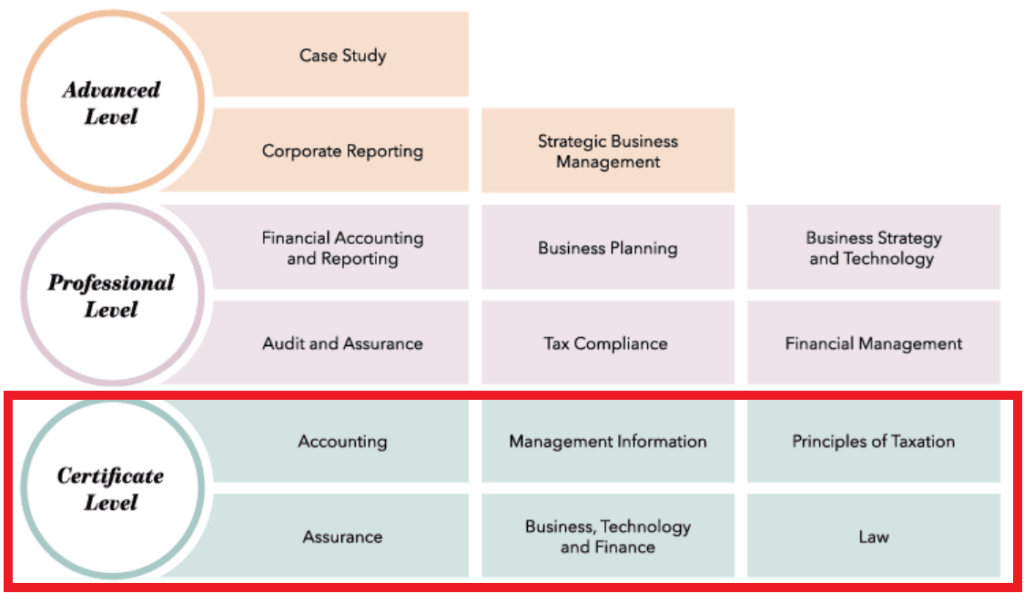 Prior Accounting Experience
First and foremost, do not stress. You will learn everything you need to know during your ACA studies. This is exactly why many employers do not require students to have an accounting background. I did not have any prior accounting experience and I do not believe this hindered my progress at all. I studied BSc Economics and Mathematics at University and actually actively avoided accounting modules as I was told they were too hard. I wish I did now as I do enjoy accounting. Note that I do not think you need to be brilliant at Maths either but it can help.
Learning accounting for the first time is definitely like learning a new language at first. What I did enjoy about accounting is that it is all quite logical. If you do want to get ahead, you can read my eBook for free by signing up to Amazon Kindle Direct here (affiliate link). You can also find links to the eBook here or a paperback version is available if you would prefer.
This book will teach you the basics and the content does overlap with ACA Certificate Level Accounting. However, this book does not cover the whole Accounting exam syllabus. This book will definitely give you a very solid foundation as it will really develop your understanding of the basic accounting concepts. I have provided high-level insights of the more exciting things to come as well as used my years of experience to help you remember and apply the basics more easily. There is also the opportunity to apply what you have learnt with examples and practice questions throughout.
Credit for Prior Learning
If you did study accounting or any other relevant modules at University, you could potentially get credit for prior learning/exemptions. I did not get any exemptions but in a way I was glad this was the case. This is because many candidates quickly forget what they learnt in University and then the ACA Certificate Level exams may be pre-requisites for later exams. However, it is definitely worth checking if you are eligible, especially for exams such as Law.
Note: It is worth checking with your employer though before applying. Mine would not allow any exemptions for Accounting. I do not think they did for Assurance either.
Learning the Content
Kaplan/BPP offer integrated workbooks if you study with them as I did (Kaplan). If you are unaware of what the integrated workbook is, it is essentially a folder that consolidates all the relevant content for the exam. This is much less detailed than the ICAEW Study Manual but covers everything you will need to know. If you do not have access to something like this, I do not think you need to worry too much at this stage. With plenty of question practice you will gauge what content is vital to pass. There is also said to be an online study guide too.
I would recommend covering the integrated workbook/going through the content once. For Accounting, if you just are not getting it then it is worth going through the tougher chapters again such as accruals to nail it. This may be the case for other exams such as Management Information and Tax Compliance too. Speaking of Tax Compliance, you will get a tax sheet/tables that includes admin areas such as some of the key tax dates. You should become familiar with what is provided in the exam and what is not to avoid wasting time memorising things you do not need to.
There are some exams such as Assurance or Law I would honestly recommend not spending too much time learning the content. It is very tempting to go through very slowly trying to learn and memorise everything. Of course you should go through the content at least once with your highlighter out (or on screen now) but you will learn best from going through the questions. This is because the questions are quite nit-picky. In my experience, you can learn more and memorise small details better through question practice than just reading the content.
ICAEW Question Bank Practice
In terms of revision, I aimed to go through each Question Bank at least once. This should suffice as long as you are debriefing and learning from your answers. With Assurance I went quite overboard and actually did this one twice. Assurance is really quick to bash through so you could do as I did. In all honesty, I did revise quite a lot. I would pull the Question Bank out at the train station and all sorts. That being said, I do not think THAT much revision is required so do not take that as you needing to go overboard.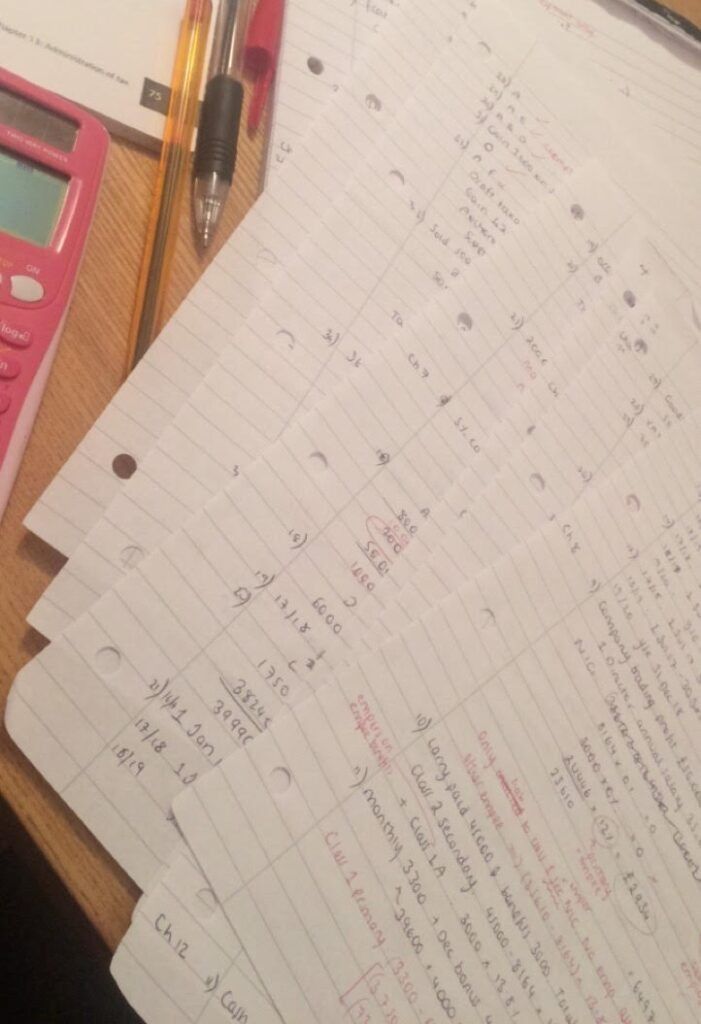 I cannot stress enough how important Question Bank practice is for all of these exams. I have the general opinion that the real exam questions are very similar to the Question Bank questions. The only exam I would not agree with this statement for is Management Information. I felt these questions were much harder and this highlighted that very good understanding of the content is needed for this exam.
Note: I did not ever go through the ICAEW Study Manual self-test questions. The ICAEW Question Bank which on the whole are similar to the exam questions combined with Kaplan Integrated Workbook questions seemed to be enough for me.
How Much Study Time is Required to Pass?
In terms of how much to study, I sat the Accounting, Tax Compliance and Assurance exams very quickly. From learning to sitting these exams it was probably around a month from start to finish, see my timetable below. Thankfully the resits were not needed. Outside of college/work, I was therefore revising a couple of hours a night and then would also do question practice on the weekends. I do not think it was all weekend earlier on but the few weekends before the exam I did build it up. Scroll further down to see my revision timetable the week of my first ever exam.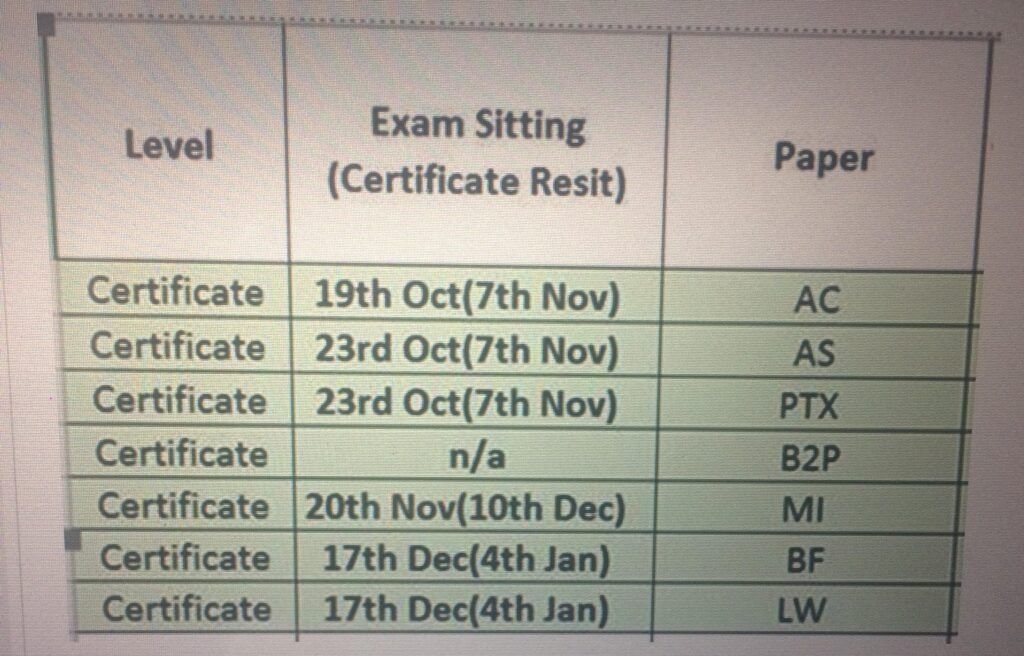 For the other three exams, I sat these within the following two months. There was one month to cover Management Information and one final month for the last two, which I sat together. I had personalised learning days to go through the content myself as these modules were not taught in college. On top of these days, I would say I probably did an hour or so of question practice a day as well as weekends.
It does just really depend on your schedule in terms of how much study time is required and of course, whether you have learnt the content in your previous studies. Like I said in 5 Best Ways to Minimise Exam Stress, I would recommend planning out all of the Question Bank questions out. Additionally, I would highly recommend purchasing a weekly planner such as the following (aff link). Mine is pictured below which literally carried me through my studies! I would stick to this as I would know which questions to complete on which day and tweak accordingly as I went along.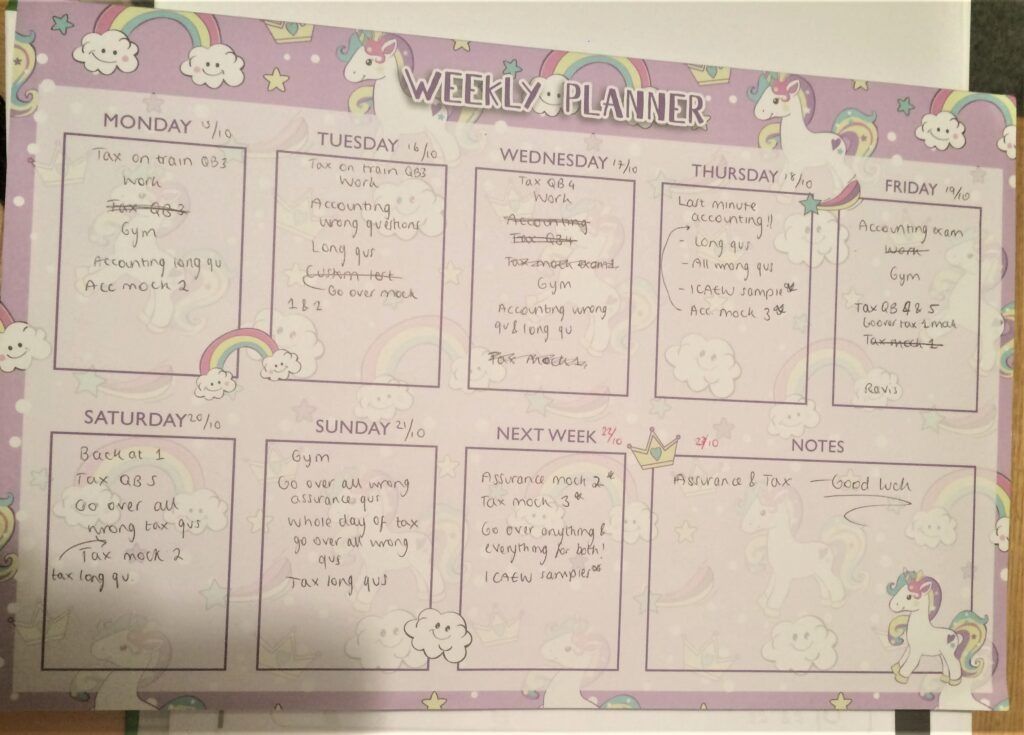 If you have the time and you do really want to secure that pass, you could go through each Question Bank twice. However, as I said, this is really not required to pass. Many do not even get through the full Question Bank once but I have the view it is better to do more than less. It will help you later on, especially with the ACA Certificate Level Business, Technology and Finance models as these all come up again for Business Strategy and Technology. Posters can help with these.
Extra Resources for Passing ACA Certificate Level Exams
If you do feel you need extra support, here are a list of additional resources I have not covered in this blog yet:
ICAEW sample assessments for each ACA Certificate Level exam – these can be found on the ICAEW website as well as other useful resources on each exam resource page. The sample exam papers are very helpful as you can practice in the exam software so there are no surprises on the exam day.
ACA Certificate Level Telegram group – Telegram is an app that is essentially WhatsApp without phone numbers. There are many students in this group, both those who are currently studying towards the ACA Certificate Level or those who have passed this Level. It is a group aimed to help!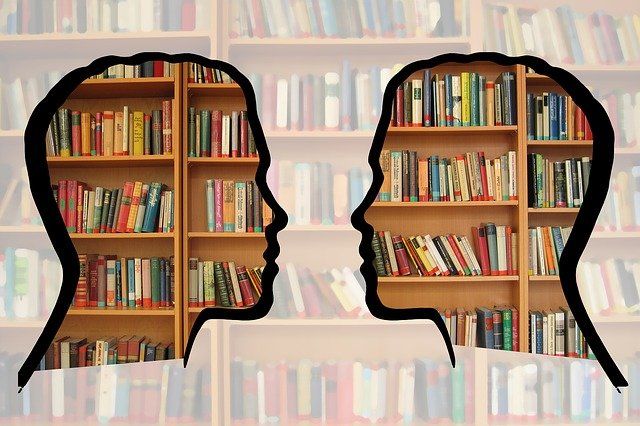 To recap those which have been covered:
A breakdown of all ACA Certificate Level exams in terms of structure, content, timing, etc – click here
Accounting for Beginners book to get ahead and get started with Accounting today!
Pass rates as well as difficulty rankings – click here
Furthermore, you may be interested in finding out more information about the ICAEW training file. This is likely to be very new to you but you will need to be on top of this from early on. Find out more here.
ACA Certificate Level Exams Wrap Up
Although these ACA Certificate Level exams are predominantly multiple choice, they are not easy and should not be underestimated. The exams are not impossible but they can be tricky. The pass rates are not 100% for a reason. Try not to be the one to slip up early on as I have found this could potentially result in the same result continuing later on in your studies. If you put in the work, you should definitely be on track to pass these exams with a lot of question practice. Take it one day at a time, plan ahead and have confidence – you should definitely be able to pass!
Note: please do not be disheartened if you do fail. You could be very unlucky on the day and there are many, many success stories where this has not stopped people from qualifying. I was convinced I failed Management Information but luckily did not. Hopefully this blog will help you if you are in this position.
Good luck with your studies and I hope you found this post helpful. I will potentially be writing blogs on how to pass each individual ACA Certificate Level exam where I go into detail for each exam. If this is of interest, join my journey so you do not miss this.