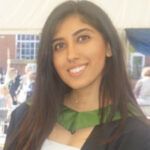 Hey!
27, Female, Birmingham, UK.
Honestly I have no idea of how much detail to go into here about myself or how much you would even be interested in but here it goes…

My name is Jag and I currently work at a Big Four accountancy firm as an Audit Manager. I started out at an all girls grammar school and stayed on for sixth form. I then went on to study BSc Economics and Mathematics (Industrial) at the University of Leeds. This included a placement year at IBM Southbank as a business analyst. After university I had little time to secure a graduate scheme so I decided to teach Mathematics for a year at a secondary school. I also have experience of tutoring Maths. During this time teaching, I applied and secured a graduate scheme in audit. I went on to successfully start my ACA journey in September 2018.

As at 11/11/20, the date I have started this blog, I have sat all 15 ACA examinations (waiting on my Case Study result – 11/12/20 confirmation I passed!). I have completed all other stages of the ACA except meeting the minimum time of 450 working days. This is ongoing and if all goes to plan I should be ACA qualified by 2021.

I have decided to start this page because I feel there is a lot I have learnt in the past couple of years. It would have been easier if I had a source of information like this blog to start with. Therefore, I would like to pass on my knowledge, tips and tricks. I hope it helps you in some way or at least gives a useful insight into the ACA but I do also want to share other experiences from my life too.

My main interest outside of work is health and fitness. I will work out at least 5 days a week at the gym (or home due to lockdown). This is something I have done so for the past 6/7 years. Although this is probably not a topic I will write blogs about I do tend to share more about this on my Instagram @__jdx. You will also catch my travels on there too.

Please feel free to join me on my journey and good luck with yours!
---