The ACA qualification has much more to it than the 15 exams alone and there are in fact many different routes to becoming ACA qualified. The route available through my graduate scheme in audit at a Big Four firm was the Level 7 Apprenticeship. This seems to be becoming a more popular route across UK registered employers. As this route does classify as an apprenticeship, it means students must show they have achieved 20% off-the-job training. In addition to this, and the purpose of this article, is to discuss the Level 7 ACA Project Report. Through talking to other students, I have found many are unaware of the details behind this. I am here to help!
If you are not sure whether you are registered as an apprenticeship student you can check by applying the following steps.
Check out my YouTube video if you would prefer watching to reading!
Gateway Assessment
Before you can move onto the Level 7 ACA Project Report, you must have a gateway review. This gateway involves the following checks: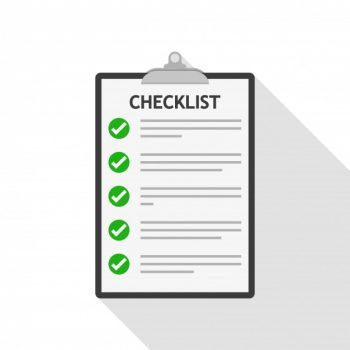 You have received 20% training
You have passed all 14 technical exams up to and including Advanced Level CR and SBM and completed all learning activities as part of the apprenticeship programme
You are fully competent with your Knowledge, Skills and Behaviours (KSB) – make sure you omit specific client details e.g. client names
You have achieved Level 2 Functional Skills in Maths and English
You have been on your apprenticeship for a minimum of 366 days (very likely if you have met point 2.)
Note: For more details of how to evidence you have met the training and KSB requirement, click here. I would definitely recommend documenting these as you go along. Regarding the Level 2 in Maths and English you will have to show your certificate for these. This is equivalent to a GCSE grade C and is likely you would have needed this to obtain your graduate scheme.
For me, this gateway review was between my Kaplan Talent Coach who was assigned to me, my coach from my employer and of course, myself via a call. It was my Kaplan Talent Coach who arranged this gateway review but if you are ready and do not hear anything I would advise asking your employer.
The purpose of this gateway review is in order to determine and confirm that you are ready to start preparing for the End Point Assessment (EPA). You will discuss whether you are to book the ACA Case Study. Having already sent across all the evidence I needed to including some written responses, I successfully passed the gateway review. Here is a quick checklist for "all the evidence":
Completed KSB tracker
Completed training log
Completed gateway reflection questions (these should be sent to you beforehand by your coach)
English and Mathematics certificates unless exempt (e.g. due to Maths degree)
You should have submitted your CR and SBM statement of achievement slip
Started completing the ACA Project Report – read below
However, that was not the end of it. This has to be documented and signed by myself, the Kaplan talent coach and my employer coach. Fortunately my Talent Coach was very helpful and put this all together using the information I had provided. To complete this my employer coach and I has to electronically sign the file emailed across. This was then left with the Kaplan Talent Coach.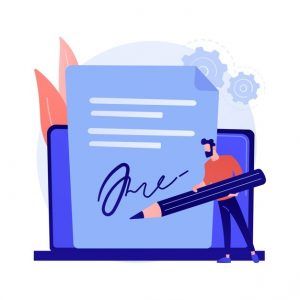 Disclaimer: this was how the gateway review worked for me as I sat CR and SBM on their own and then the Case Study followed. If you are sitting all three Advanced Level exams together, I would assume you would have the gateway review before these and then confirm you passed after. I am not entirely sure though given this was not how I did it. It is best to check with your employer if you are in this position.
End Point Assessment (EPA)
The EPA is a compulsory element of the Level 7 ACA Apprenticeship. This should be the final stage as at this point you should have already completed/almost completed the ethical requirements. I did still have to meet the 450 working days requirement at this stage.
The EPA consists of two parts:
Exam 15 – Case Study
the ACA Project Report
The aim of the EPA is to consolidate all the technical knowledge, skills and behaviours you should have learnt over the course of the ACA Level 7 Apprenticeship. It is essentially testing that you meet the industry level standards of a Chartered Accountant.
As per an ICAEW presentation I attended, below shows the split of the Knowledge, Skill and Behaviour between the two EPA requirements. You will see some of the KSBs are in red writing. I will address the reason behind this shortly.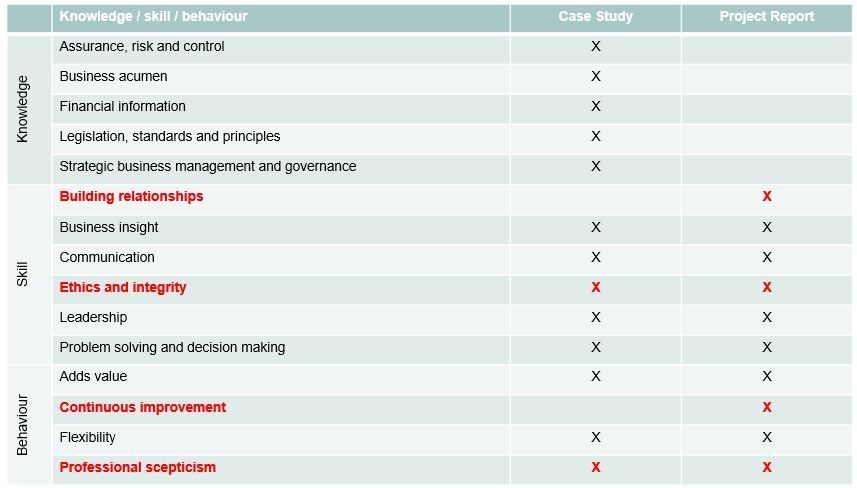 ACA Project Report Outline
The ACA Project Report focuses on the 12 months prior to submitting the Project Report. The submission window tends to be two weeks after the Case Study exam. Therefore, if you are sitting Case Study in July 2020, as per my ACA Calendar, the ACA Project Report needs to be submitted at the latest by 4th August 2021. The experiences you discuss in the Project Report therefore should be no earlier than 4th August 2020. You essentially need to draw on experiences from the last 12 months to demonstrate you have developed certain skills and behaviours listed above. There is an element of evaluation too.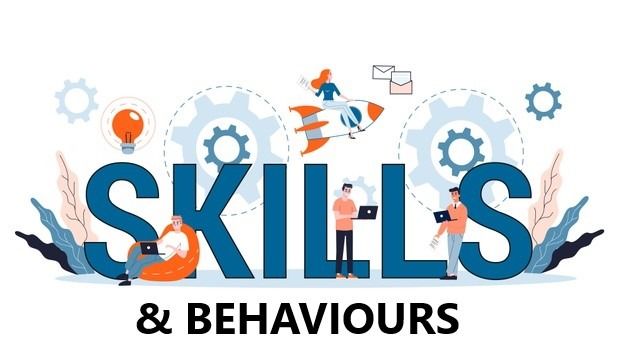 The word count for the ACA Project Report is 4,000 words excluding the words already used in the ACA Project Report template. However, there will be five questions (1a, 1b, 2-4) and it is recommended not to write more than 800 words for each skill/behaviour. This breaks down the word count massively and I actually found it was easy to go over so I had to spend some time cutting parts out. The five questions are 18 marks each and there is 10 marks available for format, spelling and grammar (totalling 100 marks). The pass mark across the whole paper, not each requirement is 50%.
If you are worried about the ACA Project Report, please try not to stress. It is not trying to catch you out at all but you do need to ensure to pick relevant examples. What helped me was reading some of the examples on the ICAEW website.
ACA Project Report Questions
Here is where the red writing comes in! These skills/behaviours are guaranteed to come up in the ACA Project Report, no matter your sitting. There are then two questions remaining that vary from sitting to sitting.
Q1a. Continuous improvement
Q1b. Building relationships
Q2. Ethics and integrity or professional scepticism – you can choose here
Q3. One other skill [As determined for each sitting] – mine was leadership
Q4. One other behaviour [As determined for each sitting] – mine was adding value which I actually ended up redoing for a different example.
What is good about this is that if you know you are going to sit your Case Study in November 2021 for example and your Project Report has not been released yet, you could already start preparing your first three answers. I would highly recommend this because I found it could be quite time consuming, especially with revising for Case Study, completing all gateway questions and working through a busy season. Stay on top of the ACA calendar to know when your Project Report is going to be released for the final two questions too.
There are much more details provided about the skills and behaviours and how you can demonstrate this within the ACA Project Report template. You are advised to use different examples for each question and to avoid giving answers that are too technical. This was challenging but after a good, hard think I was able to think of some decent examples.
Project Report Answer Format
What I thought is quite nice about the ACA Project Report is the fact that answers all need to be structured in the same way. You are required to use subheadings within your answers which I felt made it easier to answer. These are as follows:
Describe the situation and

your

role/responsibilities – "Situation and role"
Explain the actions

you

carried out and how

you

demonstrated the required behaviour – "Actions and demonstration of * insert skill/behaviour*
Evaluate your effectiveness – "Effectiveness"
Describe your lessons learnt (that could be applied in the future) – "Lessons learnt"
The most difficult part for me was evaluating my effectiveness. A good evaluation should identify positive and negatives. Of course naturally you want to pick an example where you feel you did really well. For this reason, I struggled to identifying weaknesses. This is something that was flagged in several of my answers when submitting to Kaplan for a quality check.
How to Master the ACA Project Report
Here are some of the best tips I was given and can pass on to you: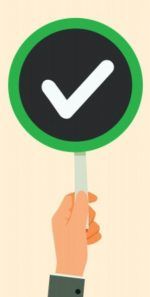 Use specific examples (one per question) with dates and not theoretical situations
When answering these questions, ensure not to mention any client names due to confidentiality and keep it all anonymous
Focus on YOUR part – use first person 'I/me/my' instead of 'we/the team/the firm'
To do well, it really is as simple as following the rules. Stick to the word limit (800 words per question) and use the subheadings
Use short sentences with simple language, avoiding technical jargon
Identify strengths and weaknesses within the effectiveness section (not lessons learnt)
Submitting your ACA Project Report and Final Remarks
To submit the Project Report it is actually quite simple. You simply need to go to your training file, click on the 'examinations' tab, 'apply for an exam' (the Project Report) and you upload it there. Images can be seen below.
When you do upload it, I vaguely remember that the formatting does appear to mess up. However, I was told that if you have used Arial size 12 as instructed when you upload it in the Word document, it will be fine when downloaded on the other end. ICAEW have further instructions here under the section how to submit.
Finally, I would like to stress that it is better in the long run if you can start as soon as you can (of course within the one year period). It really can get quite overwhelming when you have everything going on at once. Additionally, if you too are with Kaplan and perhaps BPP are the same, there will be quality reviews. It is worthwhile meeting these deadlines as the reviews are thorough and helpful.
If you are wondering whether the ACA Project Report is hard I can confirm it is not difficult. It does just take a fair bit of time to put together. Results come within a few months and I received mine via email. Side note, I am not 100% sure what happens if you unfortunately fail the Case Study but I predict the Project Report would not need to be resat. If you would like the exact date of results you can refer to the ACA Calendar. I did achieve 65 in the end which is a decent pass!
I hope you found this helpful and if so, join the journey for much more to come.