If you have been following my LASEK laser eye journey, you will know it has not been an easy ride. The first month in terms of vision fluctuation was absolutely horrendous. It was a very difficult time and a rollercoaster to say the least. However, I described my one month aftercare appointment to be a real turning point. Since then, I believed I have 20/20 vision but this had not been confirmed nor denied, until NOW. Read on to find out my results following my three months post LASEK laser eye surgery aftercare appointment.
This blog will be a much shorter post compared to my regular quite lengthy, detailed articles. I really just wanted to give those who have been following an update three months on. Let's get straight to it.
Vision Three Months post LASEK Laser Eye Surgery
At my one month aftercare appointment, I was told my right eye was one line above 20/20 and my right was one line below. Although this sounds very impressive, in reality I was still not happy with the results at this point. This is because I was experiencing severe visual fluctuations. My eyes may have been performing well during the appointment, however this was not long lived. Throughout the day my eyesight would be on off blurry and there was a general haze. Subtitles did not seem clear and I therefore would not have agreed with the vision assessment.
At both the one month and three month aftercare appointments I took an eye test where I had to read letters on the screen. Three months post LASEK laser eye surgery (iDesign) I can now happily confirm the following:
Right eye – two lines above 20/20
Left eye – one line above 20/20
As you can imagine, I was over the moon to hear this! I did suspect I had 20/20 at this point but without having an eye test I could not be so sure. As explained in 'LASEK Laser Eye Surgery Recovery Time: Eye-Opening Truth' I believe the main reason behind this turnaround was the lubricating eye drops. My left eye did in fact catch up to where it needed to be in the end, three months post LASEK. I will therefore fortunately not be requiring any top up laser eye surgery.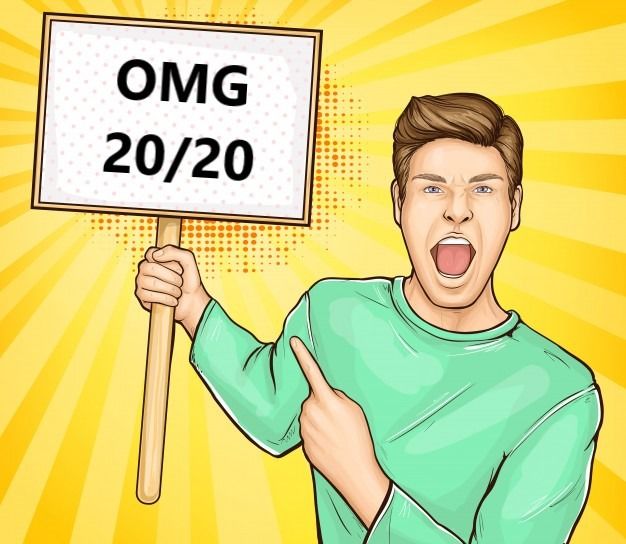 This is AMAZING considering my prescription was around -5 in both eyes prior to surgery. See here for my prescription pre-surgery.
Eye Health Three Months On
At the three month aftercare appointment, I had a couple of eye examinations. These were the hot air balloon test as well as the air puff test. These are the same tests as per the laser eye surgery consultation. The optician also put orange drops into my eye to assess the dryness and overall eye health.
Note: for this appointment I had not taken any lubricating eye drops that same day. I last put these in the morning before the three month aftercare appointment.
The verdict was that both eyes had a clear cornea. My right eye had no sight of dryness but the left eye was slightly dry. Again, it did not feel it though. To my surprise the scarring on my left eye had actually also improved! This was definitely an added bonus. Additionally, as it had been three months since laser eye surgery, my eyes were outside the three month period for developing haze.
Ongoing Eye Drops
Given this was the last opportunity to get free drops as part of my aftercare package, I of course wanted to make the most of it. Between the one month and three month appointments, I did have to purchase my own Hyco San eye drops as I had ran out. This was only £11.50 but given I had paid so much for the surgery, I did not want any extra costs!
Thankfully the optician provided me with another spare bottle of Hyco San eye drops. I was also given additioanl drops called Celluvisc. These drops are to be used at night and then again in the morning when the eyes are particularly dry.
Since my three month post LASEK appointment 16/03/21, I have not needed to use the Celluvisc drops. Hopefully I never need to. I have also only used the Hyco San eye drops on the odd few days but for the most part I am eye drop-less! Or at least I was, until very recently (05/08/21) as my screen time has increased due to work and blogging. I have increased this to one/max two drops a day as I do not want my vision fluctuating again.
Advice Going Forward
Now that my eyes have thankfully settled, I feel as though I have finally achieved the best outcome. Furthermore, as mentioned I barely have any side effects; the odd dry eyes where drops are needed as-and-when and I barely have halo rings either now.
Therefore, going forward all that is required as advised by the optician is:
Wear sunglasses in summer to protect the eyes from UV rays.
Eat plenty of Vitamin C as it is good for the eyes. This includes any of the brightest fruits such as tomatoes.
Avoid rubbing your eyes as this damages the cornea in the long run.
Next aftercare appointment
As everything looks good, I have essentially been given the all clear. My next appointment will be in 12 months from the day of my surgery (December 2021).
If you have any questions, feel free to join my Facebook group for laser eye surgery or read this FAQ. In the meantime, you can also join my journey as I will provide a further update at a later date.